Sitting Pretty: Discover the Latest Trends in Office Chairs Online and Transform Your Workspace
Welcome to the world of office chairs online, where comfort and style come together to transform your workspace into a haven of productivity. Whether you're a dedicated remote worker, a busy professional, or a freelancer, having the right office chair is essential for optimum ergonomic support and long-lasting comfort.
In this article, we will delve into the latest trends in office chairs online and how they can contribute to a more pleasant and efficient work environment. From ergonomic designs to innovative features, we'll explore a wide range of options that cater to different preferences and needs.
With the advancement of technology, you no longer need to visit physical stores to find the perfect office chair. Online retailers provide a multitude of options, making it easier than ever to discover the chair that suits your style, budget, and specific requirements. We will delve into the benefits of shopping for office chair online and provide tips on how to find the best deals.
So sit back, relax, and let us guide you through the world of office chair trends. Get ready to transform your workspace and take your productivity to new heights.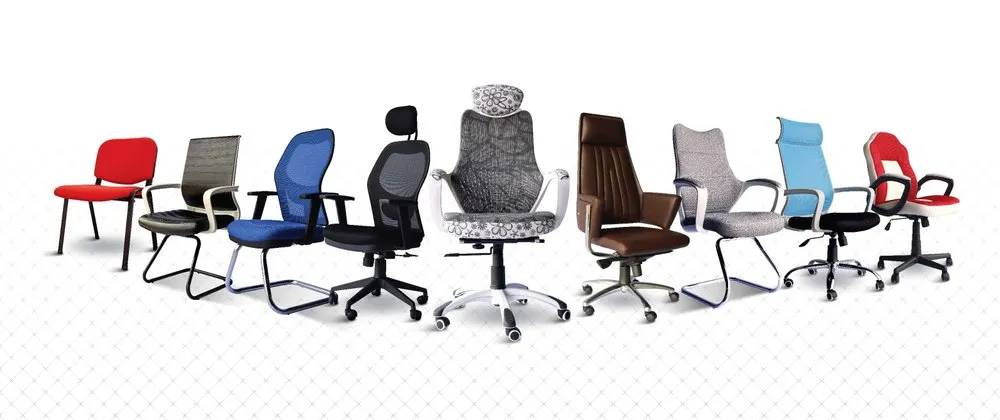 The importance of choosing the right office chair
When it comes to creating a productive work environment, choosing the right office chair is crucial. A well-designed chair not only provides comfort but also supports good posture, reduces the risk of musculoskeletal disorders, and enhances overall productivity.
First and foremost, a good office chair promotes proper spinal alignment. It should have adjustable features that allow you to customize the chair to your specific needs. This includes adjustable seat height, backrest tilt, and lumbar support. By having control over these factors, you can ensure that your body is in an optimal position for long hours of sitting.
Furthermore, a high-quality office chair helps reduce the strain on your back, neck, and shoulders. It should have adequate padding and cushioning to provide comfort throughout the day. Look for chairs with breathable materials to prevent sweating and discomfort, especially during warmer months.
Lastly, investing in a good office chair is an investment in your health. Prolonged sitting can lead to various health issues such as back pain, neck strain, and poor circulation. By choosing an ergonomic chair that supports your body and encourages movement, you can minimize the negative impact of sedentary work.
Ergonomic office chairs: The key to comfort and productivity
Ergonomic office chairs have become increasingly popular in recent years, and for good reason. These chairs are specifically designed to provide maximum comfort and support, allowing you to work for extended periods without experiencing discomfort or fatigue.
One of the key features of ergonomic chairs is adjustable height. This allows you to position the chair at a height that aligns with your desk and ensures proper posture. Your feet should be flat on the floor, and your knees should be at a 90-degree angle.
In addition to adjustable height, ergonomic chairs often come with adjustable armrests. This feature allows you to position your arms comfortably and prevents strain on your shoulders and neck. Ideally, the armrests should be at a height where your elbows are at a 90-degree angle when typing or using the mouse.
Another important aspect of ergonomic chairs is lumbar support. The lumbar region of the spine tends to curve inward, and sitting for prolonged periods can strain this area. A chair with built-in lumbar support or an adjustable lumbar pillow can help maintain the natural curve of your spine and prevent lower back pain.
Additionally, ergonomic chairs may have adjustable backrests that allow you to recline and rest during breaks. This feature promotes blood circulation and reduces the risk of muscle stiffness. Look for chairs with a locking mechanism that allows you to secure the desired recline angle.

Trending office chair styles and designs
Office chairs are no longer just functional; they have evolved into stylish pieces of furniture that can enhance the overall aesthetics of your workspace. Here are some of the trending office chair styles and designs to consider:
1. Modern Minimalist: Clean lines, sleek curves, and a minimalist color palette characterize this style. These chairs often feature a combination of metal and leather or fabric upholstery, creating a contemporary and sophisticated look.
2. Mid-Century Modern: Inspired by the design trends of the mid-20th century, these chairs are known for their timeless appeal. They typically have wooden frames, upholstered seats, and backrests with subtle curves. This style adds a touch of retro charm to any workspace.
3. Scandinavian: Scandinavian design is all about simplicity, functionality, and natural materials. Scandinavian office chairs are often made from light-colored wood, combined with neutral upholstery. They exude a sense of calmness and create a soothing work environment.
4. Executive: If you want to make a statement with your office chair, an executive-style chair is the way to go. These chairs are often larger in size and feature high backs, plush cushioning, and premium materials like leather. They exude luxury and professionalism.
5. Gaming: Designed with gamers in mind, gaming chairs have become increasingly popular for office use as well. They typically have a sporty design, with bold colors, ergonomic features, and additional lumbar and neck support. These chairs are perfect for those who spend long hours in front of a computer.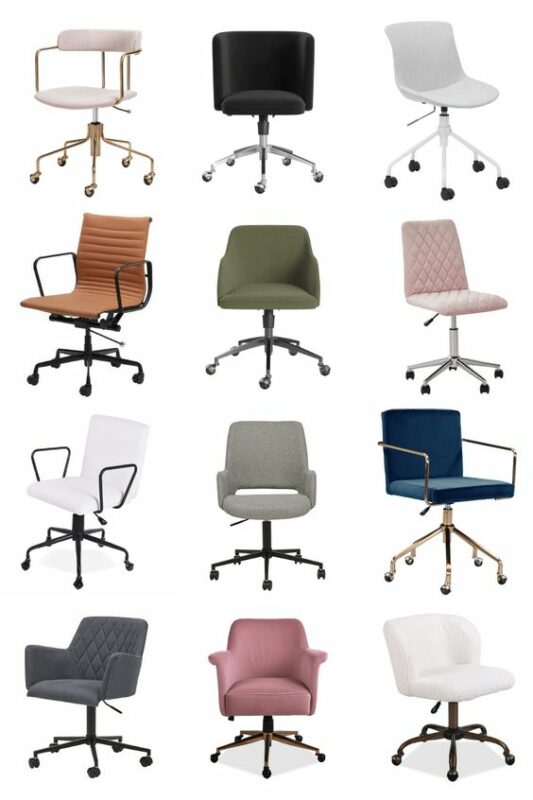 Top features to look for in a modern office chair
When shopping for a modern office chair, there are several features to consider that can enhance your comfort and productivity. Here are some of the top features to look for:
1. Adjustable Seat Height: This feature allows you to customize the chair's height to your desk and body proportions. It ensures that your feet are flat on the floor and your knees are at a 90-degree angle.
2. Lumbar Support: A chair with built-in lumbar support or an adjustable lumbar pillow helps maintain the natural curve of your spine and prevents lower back pain.
3. Adjustable Armrests: Adjustable armrests allow you to position your arms comfortably, preventing strain on your shoulders and neck. Look for chairs with armrests that can be adjusted in height and width.
4. Reclining Function: A chair with a reclining function allows you to change positions and rest during breaks. Look for chairs with a locking mechanism that allows you to secure the desired recline angle.
5. Breathable Materials: Chairs with breathable materials such as mesh or fabric promote better airflow, preventing sweating and discomfort during long hours of sitting.
6. Swivel Base: A chair with a swivel base allows you to move freely and easily access different areas of your workspace without straining your body.
7. Casters: If you have a carpeted or hard floor, look for chairs with appropriate casters that glide smoothly and provide stability.
Remember, the ideal office chair is one that combines style with functionality and caters to your specific needs. Consider the features that are most important to you and prioritize accordingly.
How to choose the right office chair for your specific needs
Choosing the right office chair can be overwhelming with the multitude of options available. However, by considering a few key factors, you can find the perfect chair that meets your specific needs. Here's how:
1. Determine your budget: Office chairs come in a wide price range, so it's important to establish your budget before starting your search. This will help narrow down your options and prevent overspending.
2. Assess your workspace: Consider the size and layout of your workspace to determine the appropriate chair size and design. If you have limited space, opt for a chair with a smaller footprint. If aesthetics are important to you, choose a chair that complements the overall style of your workspace.
3. Identify your specific requirements: Make a list of the features that are essential for your comfort and productivity. This could include adjustable height, lumbar support, armrests, and reclining function. Use this list as a guide when comparing different chairs.
4. Read reviews and ratings: Before making a purchase, take the time to read reviews and ratings from other customers. This will give you insights into the chair's quality, durability, and overall user experience. Look for chairs with positive feedback and high ratings.
5. Test the chair if possible: If you have the opportunity, visit a physical store to test out different office chairs. Sit in them for a few minutes and assess their comfort, adjustability, and overall fit. This will give you a better idea of what to expect before making a final decision.
Remember, investing in a high-quality office chair is an investment in your health and productivity. Take the time to research and compare options to find the chair that best suits your needs.
Where to buy office chairs online
Thanks to the convenience of online shopping, finding the perfect office chair has never been easier. Here are some reputable online retailers where you can browse a wide selection of office chairs:
1. Amazon: As the world's largest online marketplace, Amazon offers a vast range of office chair options from various brands and sellers. You can easily filter your search by price, style, features, and customer ratings.
2. Vassio: Vassio specializes in home and office furniture, offering an extensive collection of office chairs in different styles and price ranges. They provide detailed product descriptions, onsite warranty, customer service, customer reviews, and often offer discounts and promotions.
3. Flipkart: Flipkart offer a variety of office chairs suitable for different budgets and needs. They often have physical stores as well, allowing you to test out chairs before making a purchase.
4. IndustryBuying: Industrybuying is another popular office supply provider that carries a wide range of office chairs. Their online store provides detailed specifications, customer reviews, and helpful buying guides to assist in your decision-making process.
5. IndiaMart: Known for their high-quality ergonomic chairs, Indiamart offers a selection of premium office chairs designed for ultimate comfort and support. Their online store provides detailed product information, seller information, and warranty details.
When shopping online, it's important to read product descriptions, customer reviews, and specifications carefully. Pay attention to shipping options, return policies, and warranty information. Additionally, compare prices across different retailers to ensure you're getting the best deal.
Reviews and recommendations for popular office chair brands
With numerous office chair brands on the market, it can be challenging to determine which ones offer the best quality and value. To help you make an informed decision, here are reviews and recommendations for some popular office chair brands:
1. Vassio: Vassio is renowned for its ergonomic office chairs that prioritize comfort and functionality. Their chairs often feature adjustable lumbar support, intuitive controls, and high-quality materials. They are known for their durability and long-lasting performance.
2. Herman Miller: Herman Miller is a well-respected brand in the office furniture industry, particularly for their ergonomic chairs. Their chairs are designed with precision engineering and research-backed ergonomics. They provide exceptional support, comfort, and style.
3. Humanscale: Humanscale is committed to creating sustainable and ergonomic office chairs. Their chairs feature innovative designs, intuitive controls, and advanced ergonomic features. They are known for their sleek aesthetics and high-quality craftsmanship.
4. HON: HON offers a wide range of office chairs suitable for different budgets and preferences. Their chairs focus on functionality, durability, and affordability. They provide good value for money without compromising on quality.
5. IKEA: IKEA is known for its affordable and stylish furniture, and their office chairs are no exception. While not necessarily specialized ergonomic chairs, they offer options that provide decent comfort and support for everyday use.
Remember, everyone's preferences and needs are different, so it's essential to consider your specific requirements when choosing a brand. Read customer reviews, compare features, and prioritize the factors that are most important to you.
Tips for setting up an ergonomic workspace
Investing in an ergonomic office chair is just the first step towards creating a comfortable and productive workspace. Here are some additional tips for setting up an ergonomic workspace:
1. Position your monitor at eye level: Place your monitor directly in front of you at a comfortable viewing distance. The top of the screen should be at eye level to avoid straining your neck. Use a monitor stand or adjustable arm to achieve the proper height.
2. Keep your keyboard and mouse at the right height: Position your keyboard and mouse so that your forearms are parallel to the floor and your wrists are straight. Use a keyboard tray or adjustable desk to achieve the correct height. Consider using an ergonomic keyboard and mouse to minimize strain on your hands and wrists.
3. Arrange your desk essentials within reach: Keep frequently used items such as pens, notebooks, and phone within arm's reach to avoid excessive stretching or reaching. This helps maintain a comfortable and relaxed posture while working.
4. Take regular breaks and move around: Even with the most ergonomic setup, sitting for long periods is not ideal for your health. Take short breaks every hour to stand up, stretch, and move around. Consider incorporating standing or walking breaks into your daily routine to promote blood circulation and reduce the risk of muscle stiffness.
5. Consider additional ergonomic accessories: Depending on your specific needs, you may benefit from additional ergonomic accessories such as a footrest, wrist support, or an adjustable monitor arm. These accessories can further enhance your comfort and ergonomics.
Remember, the key to an ergonomic workspace is customization. Adjust and fine-tune your setup based on your body's needs and preferences. Regularly reassess your posture and make adjustments as necessary.
Maintenance and care for office chairs
To ensure the longevity and performance of your office chair, proper maintenance and care are essential. Here are some tips to keep your chair in top condition:
1. Regularly clean the chair: Dust and dirt can accumulate on the chair's surface, affecting both its appearance and functionality. Use a damp cloth or a mild cleaning solution to wipe down the chair regularly. Avoid using harsh chemicals or abrasive materials that can damage the upholstery or components.
2. Check and tighten screws and bolts: Over time, screws and bolts may become loose due to regular use. Periodically inspect your chair and tighten any loose screws or bolts to prevent instability or potential damage.
3. Lubricate moving parts: If your chair has moving parts such as casters or reclining mechanisms, apply lubricant as needed to ensure smooth operation. Follow the manufacturer's instructions and use appropriate lubricants specifically designed for the chair's components.
4. Avoid excessive weight or misuse: Office chairs have weight limits specified by the manufacturer. Avoid exceeding these limits to prevent strain on the chair's structure. Additionally, avoid using the chair for purposes other than sitting, as this can lead to damage or premature wear and tear.